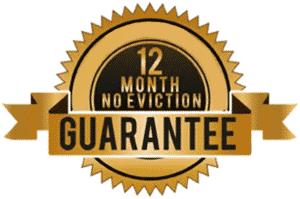 12 MONTH NO EVICTION GAURANTEE
Enjoy Extra Peace of Mind: You're Protected Against Evictions
EVICTION IS PAINFUL & EXPENSIVE
As a rental property owner, you want to receive stable cash flow each month. Eviction becomes necessary whenvever a tenant stops making rent payments and you need to replace them with new tenants.
Eviction is painful because it can be expensive. The legal fee to file eviction and to obtain a Write of Possession can cost on average $1,200 in California.
WE HAVE ONE OF THE LOWEST EVICTION RATES IN THE INDUSTRY
UP Property Management has strict tenant screening procedure to ensure you'll have qualified, high paying tenants. We use both human and software based background checks, so few things escape our notice.
As a result, we have one of the lowest eviction rates in the industry. However, we wanted to give you extra protection even if unforeseen events cause the tenants to be evicted.
12 MONTH NO EVICTION GUARANTEE DETAILS
12 Month No Eviction Guarantee is a simple and powerful promise that gives you extra protection against unforeseen developments:
If a tenant we found is evicted within 12 months, we will pay up to $600 of legal cost for the eviction.
In addition, we will place a new tenant without charging our portion of the Lease Fee.  
THIS IS THE BEST GUARANTEE IN THE BUSINESS
If an eviction does occur, this guarantee, in addition to the Security Deposit collected from tenants, ensures that your out of pocket expense is minimized.
IT CAN CONTINUE LONGER THAN 12 MONTHS
If you would like having the extra protection against evictions.  After 12 months, you have the option of continuing the Eviction Protection Plan for a very small monthly fee.  
ENJOY PEACE OF MIND, EXTRA PROTECTION AND EXCELLENT CUSTOMER SERVICE
We hope the above 2 guarantees will help you feel comfortable in trying our services – we're sure you'll be happy! We'll take care of all the details so you can relax.